5 Common Myths About IELTS Writing That Won't Help You
March 8, 2021

Posted by:

Victoria B. Willie

Category:

IELTS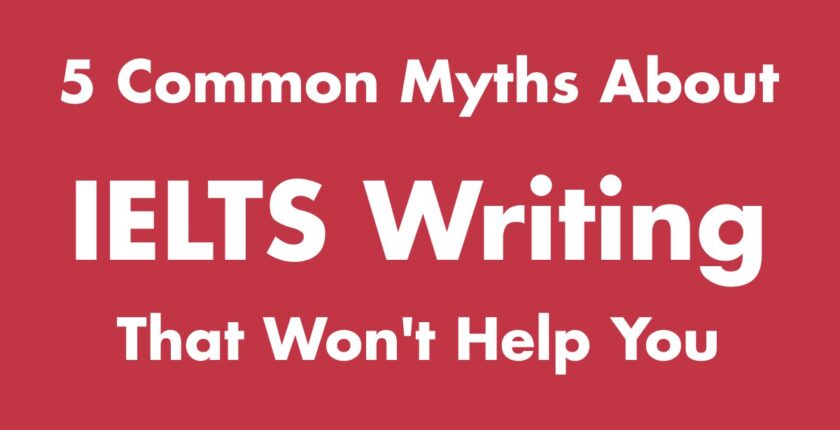 What did you hear about IELTS? That you can't pass the test in one sitting? That you have to fake accents to please your examiner? Those are all wrong. And to prove this to you, we shall debunk the myths about IELTS writing here and now.
5 Common Myths About IELTS Writing That Won't Help You
Just like every other thing in the world, there are many hearsays about IELTS writing that are not substantial. While most of these myths have the intent of guiding the test taker, they only end up misleading.
Since we don't want you to lose out as a result of some misinformation, here are the myths about IELTS writing you should pay no attention to henceforth.
1. Write Complex Vocabulary to Impress Your Examiner
This is not true. You don't have to write complex and superfluous words just so you can please your examiner. Your examiner doesn't want to learn new words. All he wants to see is the fact that you are proficient in speaking, listening, reading and writing the English language.
Hence, use simple and easy-to-understand words that convey your answer. Don't use words that are not relevant or do not contribute anything to your responses. It is way better to be simple and be on point than to flaunt your vocabulary and go off point.
2. Use Long Sentences Instead of Short Sentences
Whoever told you this doesn't have your best interest at heart. Long sentences are unwinding and can bore your reader. You should ensure your answers are crispy, simple and short to aid understanding at a go.
However, this doesn't mean you can't use complex sentences. Of course, you can use complex sentences to express your ideas. But you don't have to make them unnecessarily long and wordy.
3. Use Passive Voice Only
This is one of the myths of IELTS writing that won't help you at all. Almost every writing profession preaches the importance of active voice. This is because they help to convey your message without any form of circumlocution.
You don't have to limit yourself to passive alone. Go ahead and infuse active sentences to make your writing appear active.
4. Focus on the Quality of Your Answer Rather Than Time Limits
Contrary to popular opinion, this is wrong. Although the quality of your answers matter, your ability to finish on time also counts.
Therefore, rather than focus on one at the expense of the other, target both of them. That is, you should focus on writing quality answers before your time is up. And to do this competently, practise before the day of your test.
5. Your Ideas Don't Count. It's the Quality of Your Language That Does
Who told you that? It had better be nobody because that obviously is a wrong notion.
Both your ideas and your proficiency in using English language to express yourself matter in IELTS writing. Remember that without the right ideas, you'll only be rambling and wind up not making any point.
Ideas are the content of your language and as such, decide to impress your examiner with both your idea and language. This way you achieve a high score in IELTS writing test.
IELTS isn't as difficult as you must have been told. The examiners of the test are highly qualified English language experts who grade you based on your understanding and accurate responses. Hence, all you need is the adequate preparation which you can easily get under our tutelage.
Let us make your dream of migrating abroad for studies or work a reality. Join us at Bivent Education to get the most of our IELTS preparatory classes.
Related Posts