Understanding How to Use Dash in a Sentence
March 1, 2021

Posted by:

Victoria B. Willie

Category:

General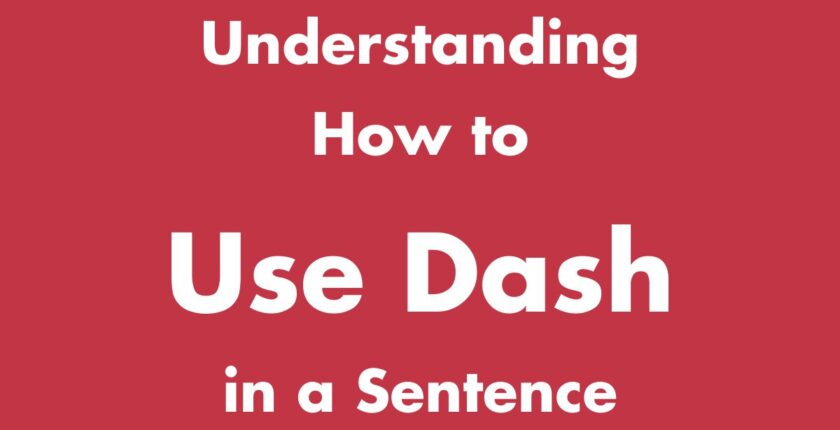 To be successful in your IELTS examination in one sitting, you have to be proficient in the four aspects of the test. This includes listening, speaking, reading and writing. And for your writing to give you a high band score, there's a lot to be done. For example, you'll have to learn how to use dash in a sentence as well as other punctuation marks and confusing words.
Dash isn't like the basic punctuation marks such as fullstop and comma. There are rules on how to use dash in a sentence.
Nobody knows these rules from birth. We all learn. And that's why we deemed it fit to show you how to use dash in a sentence.
This way, you surmount any punctuation or grammatical hitch that would ruin your band score.
The Dash Punctuation Mark
A dash is a little horizontal mark that stays in the middle of a line. It is used to separate groups of words. It is longer than the hyphen and differs from an underscore which sits at the bottom.
The major types of dash are en dash (–) and em dash (—). The difference between both is in their length and how they are used in sentences.
Read on to see.
How to Use En-Dash in a Sentence
1. It is Used to Indicate Time or Number Range
You use the en dash to replace "to" when specifying range of time or numbers.
For instance:
The time for our talk is 2:00 pm–5:00 pm. I hope we don't run short of words.
Let's read the book of Genesis1:5–16.
2. It is Used to Connect Terms That Are Already Connected
When you want to connect terms that hyphen already connects, you use the en dash. You also use it to create a compound adjective when you use a two-word phrase as a modifier.
For example:
The Nobel Prize–winning author will be addressing the crowd tonight.
The anti-entitlement–anti-nudity argument is always controversial.
How to Use Em Dash in a Sentence
1. To Replace a Colon
The em dash also serves the same purpose as the colon only that the latter is more formal than the former. This is how you use em dash to replace a colon.
I love him for two reasons — he supports me and he loves me just as much.
She didn't understand a thing the lecturer said but she knew he meant one thing — they would write his test tomorrow.
2. To Replace a Parenthesis
When you have multiple commas in a sentence, use em dash to replace a parenthesis. As in:
After what seemed like forever, she reached out for his face and dropped a kiss — or rather, something that resembled a kiss.
I may not be your typical hardworking lady but I sure do know how to make money and run a home — if that is what you mean.
3. To Indicate Omitted Letters
Writers as well use em dash to show a deliberate omission of letters. To achieve this, they insert two or three em dashes. As in:
Timi and S—— are no different from each other.
I, ———, pledge to keep my own part of the bargain.
If you need help preparing for your IELTS exam, join us at Bivent Education. Our goal is to ensure the success of all our students. And as such, we walk with you hand-in-hand, providing you with every knowledge that will make you ace your IELTS test in one sitting.
Related