How to Get a High Band Score in IELTS Listening
February 17, 2021

Posted by:

Victoria B. Willie

Category:

IELTS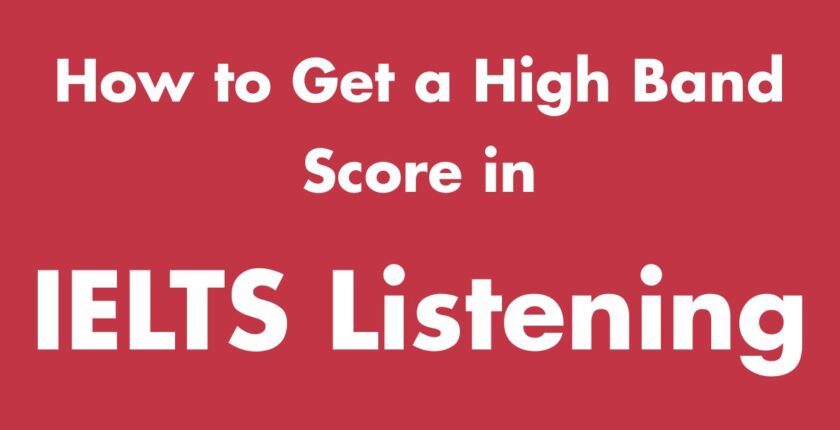 For you to have a band score of 8 and above, you need to do well in the four components of your IELTS test. This includes writing, speaking, reading and listening. All four components are important. And to do well, you have to know how to get a high score in IELTS listening, speaking, writing and reading.
Before we proceed to the tips on how to get a high score in IELTS listening test, let's see what it entails in the first place.
What is IELTS Listening?
According to IELTS syllabus, the listening component is usually the same for both Academic and General Training. It consists of four sections with 40 items to be answered under 30 minutes.
The first section is a conversation between two individuals on everyday social context topics. It could be on anything such as organising an event or planning a trip. The second section is a speech or monologue about a public event, a service provided, etc.
The third section is a discussion among four people in an academic setting. This conversation may be about a course or anything educational.
 Finally, the last section is a monologue on an academic subject; for example, an academic lecture.
You can only listen to each section once. However, to aid you when answering the questions, it is advisable that you take notes while listening.
Tips on How to Get a High Score in IELTS Listening
1. Practise Before Your Exam Day
It is necessary that you practise listening before your exam date arrives. This will improve your listening skills as on that day, you'll only listen to each recording once. There won't be room for re-listening and as such, you need to practise listening to audios, get the main gist and get accustomed to the process.
2. Add Educational Words to Your Vocabulary
Since section three is a conversation in an academic setting, you should familiarise yourself with academic terms and add them to your vocabulary. This will enable you understand the section better.
3. Be Attentive
Pay attention while you listen. There won't be another opportunity to listen again. And as you listen, take notes too. This will help you remember stuff easily.
Furthermore, try to discern who is who as you hear the voices. For instance, if you are listening to a conversation between a lecturer and a student, you should be able to identify both interlocutors from their speech.
In addition, take note of words such as but, however, finally, then, etc. They'll help you anticipate the speaker's next words.
4. Don't Write Your Answers Hastily
Yes, there is a time limit but this doesn't mean you should write your answers immediately they hit you. Take your time so you can be certain you are right. Take notes down first while listening.
Also, you can as well write your answers on your question paper first. After the test, you'll be given ten minutes to transfer your answers into your answer booklet.
5. Write Down Accurate Answers
When transferring your answers, be very careful lest you should write the wrong answers or make mistakes. As you write down, check that they fit into the numbered spaces. This way, you don't write the answer for number two under number one.
While you use these tips on how to get a high score in IELTS listening, remember never to leave any question blank. It's better to write something in the space for answers rather than leave it blank. You won't lose marks for wrong answers.
Related Posts