How to Get a High Score in IELTS Speaking
February 12, 2021

Posted by:

Victoria B. Willie

Category:

IELTS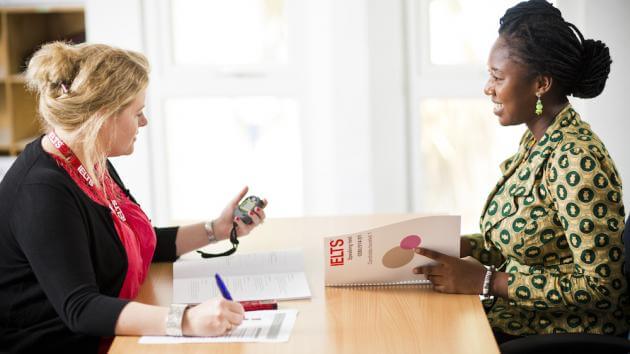 For you to ace your IELTS test with a high band score, you have to do well in the four modules of the test. That is, your writing, reading, listening and speaking scores have to be each high. And since our aim is to help you do well in your test, we thought it wise to share with you tips on how to get a high score in IELTS speaking.
However, before we do that, let's see what IELTS speaking test is all about.
What is IELTS Speaking?
This is one of the components of IELTS where you have to speak in front of an examiner. Its essence is to show how well you can process and express information in English language.
The test has three parts and takes about 15-23 minutes.
For part one, the examiner will ask you general questions about yourself, family, work, home, interests, hobbies and studies. This part will take 15 minutes.
For part two, you'll be given a minute to prepare to speak on a topic contained on the flashcard given to you. Your speech will last for about two minutes and afterwards, the examiner will ask you questions on the topic you spoke about.
For part three, you'll be asked deeper and abstract questions related to your topic in part two. This part may last up to five or six minutes as you'll have to delve deeper into more issues about your topic.
Tips on How to Get a High Score in IELTS Speaking
This is how to get a high score in IELTS speaking:
1. Your Answers Must Be Relevant to Any Question
Your examiner will most likely begin the first part by introducing themselves and exchanging pleasantries. You should respond by introducing yourself too with your full name. Ensure your responses are concise and are relevant to the questions asked of you.
If possible, familiarize yourself with some of the introductory questions before the day of your exam. This way, you are confident when you answer.
2. Be Confident
You're most likely to be nervous when speaking with your examiner. This is completely normal. However, just so you don't let nervousness get the better part of you, try to seem confident as you speak. You can do this by maintaining eye contact with your examiner and smiling when need be.
Although your grades aren't dependent on these gestures, they'll surely go a long way in calming your nerves. In turn, you will answer the questions correctly.
3. See Your Examiner as a Participant in a Conversation
If you do this, you'll be able to be free with them and express yourself better. Talk like you are genuinely interested in the conversation. This will enable you to use different pitches, particularly the rising and falling tone, when talking.
4. Be Moderate
Don't say too much and don't use very few words too when responding. Although there is no particular sentence restriction for this section, it is best you use two or three sentences for each question. This way, you avoid sounding monotonous or repeating a particular point ad nauseum.
6. Don't Cram
Rather than cram your responses, rehearse so as to sound natural. Since the first part of IELTS speaking involves talking about yourself, this should be easier for you. Just rehearse answering these questions and record yourself to check your flow. This way, you'll be able to determine how clearly and loudly you speak and make adjustments where necessary.
7. Go Beyond Yes/No
Even when you're asked a close-ended question, never say yes/no alone. Be detailed. Give explanations that will help your examiner determine how well you speak and understand English language.
Above all, while answering the questions under the speaking component. Don't try to fake accents. Be natural and remember to make your answers completely relevant to any question you are asked.
Related Posts