Understanding Modal Auxiliary Verbs 'Will' and 'Would'
December 11, 2020

Posted by:

Bivent Services

Category:

General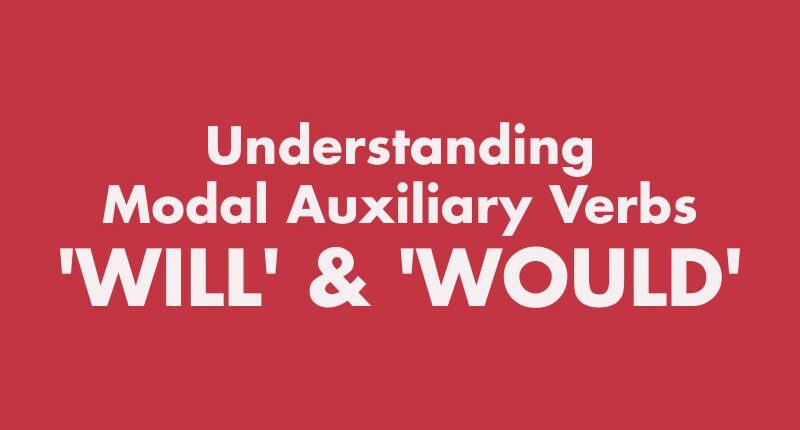 There are many words in English language that pose challenges even to those who speak English as a first language. And if you want to pass you IELTS exam with band 8 and above, you have to get a thorough understanding of these words. This article treats two of them which are modal auxiliary verbs 'will' and 'would'.
Of course, to a lot of people, modal auxiliary verbs 'will' and 'would are two of the most confusing words to deal with in English Grammar. It's even more serious if you intend to write an International English test such as IELTS.
However, mastering how to use both words is actually very simple, and we'll explain this thoroughly for you in this post.
Modal Auxiliary Verbs 'Will' and 'Would'
WILL and WOULD are modal auxiliary verbs just like can, could, may, might, must, ought, shall, should, etc.
Modal auxiliaries are verbs that never change forms the way most other verbs do. They are used to indicate possibility, likelihood, necessity, ability, permission, request, willingness, capability, suggestions, order, advice or obligation.
Furthermore, as a verb, WOULD is the past tense of WILL.
How to Use Modal Auxiliary Verbs 'Will' and 'Would'
'Will' is mainly used to express plans and things that you are certain about while "would" deals more with tentative situations. That is situations that are uncertain and subject to change.
To understand how to use modal auxiliary verbs 'will' and 'would ' is not difficult. However, it is the use of WOULD that usually gives most people issues.
To illustrate, let's examine different situations which usually determine whether we should use 'will' or 'would'.
𝟭. 𝗧𝗼 𝗗𝗲𝘀𝗰𝗿𝗶𝗯𝗲 𝗮𝗻 𝗜𝗺𝗮𝗴𝗶𝗻𝗮𝗿𝘆 𝗦𝗶𝘁𝘂𝗮𝘁𝗶𝗼𝗻:
When we talk about situations which are imagined, the word "would" is used. But confusions come with that, as "imaginary situation" gives a vibe of the future tense. For example:
She WOULD look better with longer hair.
In the example above, we have imagined her with longer hair, though at the moment, she has shorter hair. So, this is an imaginary situation, and you shouldn't use "will" in this case.
She WOULD be glad if you send this box of chocolate to her.
In this case, you are not going to send her a box of chocolate, or at least you haven't. You just have imagined that, so "would" should be used.
𝟮. 𝗧𝗼 𝗙𝗼𝗿𝗺 𝗖𝗼𝗻𝗱𝗶𝘁𝗶𝗼𝗻𝗮𝗹 𝗦𝗲𝗻𝘁𝗲𝗻𝗰𝗲𝘀
Conditionals are situations where, for something to happen, another circumstance or condition must have been met. Generally, in English language, there are three types of conditional sentences.
In the first conditional, we use "will", but in the second and third conditional sentences we use "would". Below are some examples:
• If I had a magic wand, I WOULD change some historical events.
• I WOULD never have met with her if I hadn't gone to that party.
Also, notice that both of the sentences talk about IMAGINARY situations.
𝟯. 𝗧𝗼 𝗘𝘅𝗽𝗿𝗲𝘀𝘀 𝗮 𝗠𝗼𝗱𝗲𝘀𝘁 𝗼𝗿 𝗙𝗼𝗿𝗺𝗮𝗹 𝗥𝗲𝗾𝘂𝗲𝘀𝘁
When we are in a  formal situation, using "would" to form requests is expected. Although, you could use "will" to form requests and proposals in informal settings. To illustrate:
Will you please come in? (Informal)
Would you please come in? (Formal)
Will you like to have a cup of coffee? (Informal)
Would you like to have a cup of coffee? (Formal)
𝟰. 𝗜𝗻 𝗮 𝗥𝗲𝗽𝗼𝗿𝘁𝗲𝗱 𝗦𝗽𝗲𝗲𝗰𝗵
In forming reported speeches, we use WOULD as the past form of WILL.
For instance, your friend Adesua told you, "I will be here at Eight O'clock." Now, if you want to tell that to me you should say this:
i. "Adesua told me that she WOULD be here at 8 O'clock." This is an example of a reported speech, and in this case and similar ones, "would" is used as the past form of "will".
ii. "I will try my best to pass my next exam", John said.
To report this, we'll say:
John said he WOULD try his best to pass his next exam.
In order for you to do well in IELTS, you must endeavour to improve generally in English language. And to really improve, you have to know how to use modal auxiliary verbs 'will' and 'would'.
 One way of doing that easily is by attending preparatory classes. If you attend classes with Bivent Education, you can only be rest assured your English proficiency will improve. Because our IELTS training programmes are structured with this in mind.
Related Posts