Understanding How to Use Semi-colon
January 10, 2021

Posted by:

Victoria B. Willie

Category:

General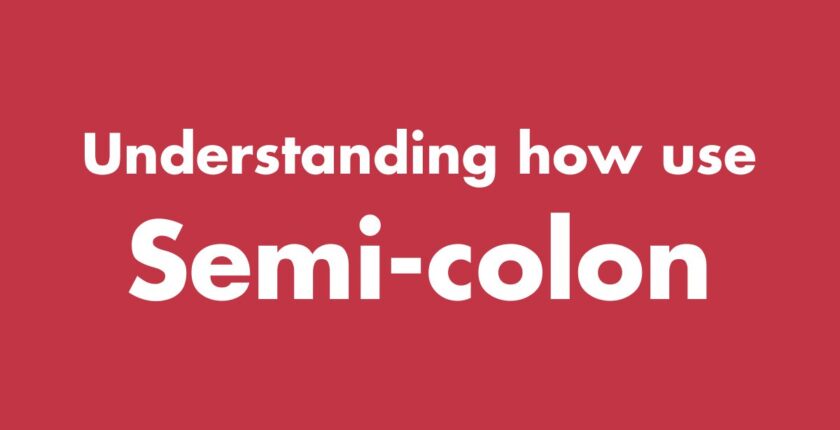 You can't say you write and speak English proficiently if you don't know how to use punctuation marks correctly. Besides understanding homographs, modal auxiliaries and other complexities in English language, you also have to get your punctuation game right. It's a prerequisite if you want to ace your IELTS test. And since we've shown you how to use apostrophe, let's see how to use semi-colon like a native speaker of English.
What is a Semi-colon?
A semi-colon (;) is a punctuation mark in the form of a fullstop placed on top of a comma. It is one of those marks that have been misused even without knowing. If you're one of those who's been misusing semi-colon, this article will give you a thorough understanding of how to use a semi-colon.
When you know how to use a semi-colon, you'll discover that your writing will become more sophisticated even without your trying hard
And that's not all.
You'll use this knowledge to pass any English proficiency test with a high band score.
Ready to learn how to use this punctuation mark? Don't stop reading then.
Stay glued to this page as we break it down for you.
How to Use Semi-colon
1. To Link Two Independent Clauses Together
This is the most common use of a semi-colon. If there are two closely related independent clauses in a sentence, unite them with this punctuation mark. For instance:
I ate two plates of eba last night; life's too short to care about a flat tummy.
Mary travelled to London; her sister is still in the village.
Note that each clause in the two examples above is independent. That is, they can stand on their own and make complete sense. Furthermore, they are closely related in thought. Hence, the use of a semi-colon.
2. To Create a Serial List
You also use this punctuation mark to separate a list if the items of that list are long or contain punctuation. Here, a semi-colon aids readability as whoever looks at the list will be able to track the divisions between the items on it. For instance:
The following dignitaries will be at the event: Joe Biden, the president of the United States; Udom Emmanuel, the governor of Akwa Ibom state; Genevieve Nnaji, ace Nollywood actor and  Toyin Lawani, the CEO of Tiannah Empire.
If she says yes to me, I'll take her to a very cosy restaurant — perhaps one of the best — on the island; fly her to Dubai on a private jet for three only, which, by the way, is very expensive, and give her a nice massage in my own spa.
3. To Replace a Conjunction
If you don't want to use this punctuation mark, you can always use conjunctions like 'and', 'but', 'while', etc. However, the rule of thumb is to never use the two at once. That is if you want to use this punctuation, drop your conjunction and vice versa.
Example:
Mary went to the mall but she couldn't find her favourite seasoning there.
Mary went to the mall; she couldn't find her favourite seasoning there.
Have you seen that it's easy to use a semi-colon? Now go ahead and make your writing more sophisticated while you get prepared to smash that test too.
However, as a rule of thumb, do not capitalise the word that comes after this punctuation mark unless it is a proper noun. Moreso, never use a comma in place of a semi-colon unless you want your writing to result in a comma splice.
Related Posts