5 Grammar Rules for IELTS You Should Follow to Get a High Band Score
April 6, 2021

Posted by:

Victoria B. Willie

Category:

IELTS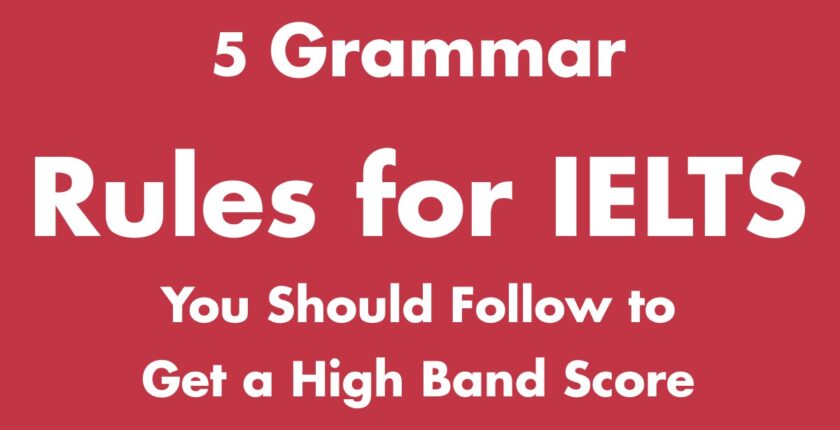 Success in every doing comes with its rules. The same applies to IELTS. If you desire to get a high band score, you have to obey the grammar rules for IELTS especially for the speaking and writing modules of the test.
Grammar for IELTS
To pass your IELTS test with a good band score, your grammar has to be top-notch. This doesn't mean you should write or speak with verbose vocabulary. It means all what you write or say should be grammatically correct according to the standard of English language.
This includes your ability to use simple and complex sentences correctly without mixing tenses or flouting the rule of concord.
In addition, you should note that 25% of your mark in the writing and speaking modules of IELTS will be from making blunder-free English expressions. And as such, you need adequate knowledge of these grammar rules for IELTS to guide what you write or speak.
Let's dive in.
5 Grammar Rules for IELTS to Help You Get a High Band Score
1. Countable and Uncountable Nouns
Some nouns in English language are uncountable in nature. And as such, you aren't expected to pluralise them. Some of these nouns include:
Information
Equipment
Literature
Research
Traffic
Money
Happiness
Advice
Education
Shopping
Food, etc.
You should also avoid attaching the article 'a/an' to these nouns. Don't add a number to them too. Just use them in their natural form or make use of partitives. For example, you should say or write:
She gave me a piece of advice.
There was traffic around that region.
And not:
She gave me advices.
There was a traffic around that region.
2. Prepositions Following Nouns and Adjectives
The prepositions that should follow certain nouns and adjectives can be quite confusing. However, let this guide you:
example of
number of
advantage/disadvantage of
use of
rise up
fall down
worried about (something or someone)
good/ bad at (something)
surprised at (something)
angry about (something)
pleased about (something)
pleased with (someone)
angry with (someone)
3. Use of -ing or to + infinitive
You use the -ing form after verbs such as consider, finish, suggest, deny, recommend, mind, practise, keep, involve, give up, enjoy, consider, avoid, etc.
For example:
You should practise changing your keys when you sing.
She gave up on dancing a long time ago.
On the other hand, you use to + infinitive verbs after verbs such as deserve, promise, afford, ask, help, refuse, offer, would like, want, seem, etc.
I wanted to talk to you.
She seems to be angry.
4. Use of Article 'The':
Many test takers use 'the' wrongly in sentences. You shouldn't be one of them. So, make sure you adhere to these grammar rules for IELTS guiding the use of the article 'the'.
Therefore, this is how to use 'the':
With superlatives such as the least, the worst, the tallest, the shortest, the highest, the most beautiful, the least encouraging, etc.
In reference to a particular thing that is the only one in a particular location. Example, the dustbin, the bridge, the stream, the bank, etc.
With cardinal numbers e.g the first, the second, the third, the last, etc.
In reference to places where the name refers to a group of other places. For example, the United States, the United Kingdom, the United Arab Emirates, etc.
In reference to a particular thing that is the only one in the entire world. For example,the Internet, the atmosphere, the earth, etc.
However, you should avoid using 'the' in the following ways:
to refer to a single place. For example, the New York, the China, the Nigeria, etc. Rather you say, Nigeria, China, New York, etc.
in a general sense. That is, rather than saying "the dogs" when you're referring to every dog, you simply say "dogs". The same applies to other nouns used in a general sense. For example: human beings are not to be trusted; dogs do get angry.
5. Noun-verb Agreement
Anytime you write or speak, make sure the verbs you use agree with the nouns. That is, if you are using a singular noun, then the verb has to be singular. For instance:
• The man with his wife is coming here tomorrow.
• The man and his wife are coming here tomorrow.
• There are many girls in that house.
• There is a girl in the kitchen.
Now that you know the grammar rules for IELTS, you should ensure you always stick to them. Failure to do this will amount to a terrible band score which you most definitely wouldn't want to have.
Moreso, if you need guidance as you prepare for your IELTS, join us at Bivent Education. We'll equip you with the right knowledge and tutorial you need to pass your IELTS test.
Related