How to Write IELTS Formal Letter: The Dos and Don'ts
June 29, 2021

Posted by:

Chinonso Marymartin Okoabu

Category:

IELTS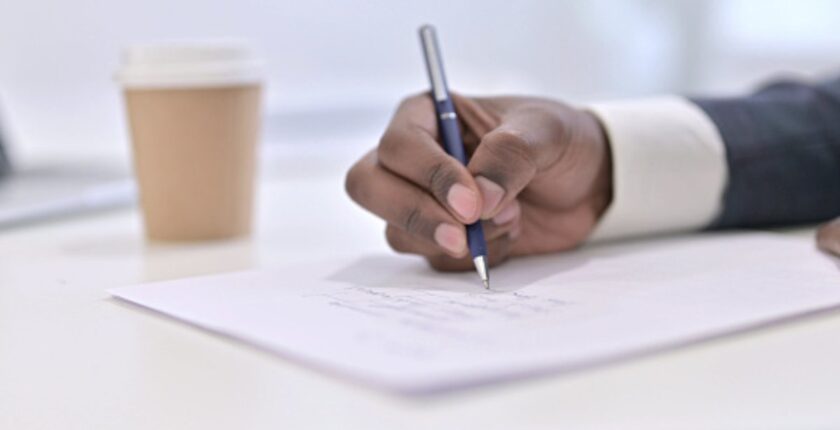 Formal letter is an official letter, and there are laid down rules to follow when writing one. Writing IELTS formal letter does not deviate from this general rule, but there are specifics that will be pointed out in this article which will serve as a guide in writing one.
What Exactly is IELTS and what is the Purpose?
The international English language testing system (IELTS) is the testing of English language skill and is required for those who wish to migrate and work in the UK, USA, Canada and other English-speaking countries. One of the test you would be expected to write is letter writing. If you are bothered on how to go about writing a formal letter for IELTS, worry not as this article will guide you on how to write an IELTS formal letter properly.
GUIDE ON FORMAL LETTER WRITING
Address: the address of you the writer, and that of the receiver is required.
Salutation: Dear Sir/Madam
Title: this is where you are required to state the purpose of writing. Example: LETTER OF APPLICATION FOR THE POST OF AN ACCOUNTANT. Remember to underline if in small letters but do not if written in block letters.
Body of the letter: this should be precise and concise. You are expected to start with the reason for writing – I am writing with respect to…
Conclusion: Yours faithfully is the standard format. But these days, yours sincerely is also accepted, then followed by your signature and full name.
How to Write IELTS Formal Letter: The dos
Here are the rules to follow when writing IELTS formal letter:
1. Who are you writing to?
It is important to know who would be receiving your letter as this will guide you on how to properly write an IELTS formal letter – the formality, style and tone.
If it is your boss or someone you have met and are slightly familiar with, then it would be a semi-formal letter and the tone and style would be slightly different. For someone you haven't met, it would be a formal letter.
2. Greeting
For a semi-formal letter, the surname could be used. But for a formal letter, it should be Dear Sir/ Madam.
3. Content and Style
The content of your letter should stick to the required formality.
i. Opening
This should depend on the reason for writing and should be written concisely.
Example:
I am writing with regard to…
I am writing to request for a position…
ii. Paragraph
Your content should be arranged in paragraphs, each point contained in one paragraph. Remember your letter is not required to be lengthy, you should have at most four paragraphs.
iii. Vocabulary and Grammar
The right use of words and uncommon lexical terms is important to get a high band. Remember you are being tested for your English language skill, so you would want to show off your skills with a wide range of vocabularies that would convince them and still keep you on track.
Your grammar should be strictly formal and polite. There should not be a trace of familiarity in it.
Also, take note to capitalize your noun words like: names of people, places, days of the week, months, e.t.c.
iv. Closing
Your concluding paragraph could be;
I look forward to hearing…
I humbly await your prompt reply..
Then yours faithfully or yours sincerely and full name to sign.
How to Write IELTS Formal Letter: The don'ts
When writing IELTS formal letter, do not do the following:
Abbreviation: Do not abbreviate your words. Make sure they are all written in full.
Slang: avoid the use of slangs. You are only allowed the use of formal words throughout.
Negative words: as much as possible, avoid the use of negative words. For example, instead of I will not be at work today, you could use, I will be absent from work today.
Lengthy sentence: there is no need for lengthy sentences when writing IELTS formal letters. You are trying to avoid mistakes and wrong use of punctuation. Lengthy sentences could make that difficult.
Ambiguous words: in as much as you want to show off your skill, avoid the use of ambiguous words, that is, words that have more than one meaning and are difficult to decipher the meaning from the context.
Contracted form of words: Use 'it is' instead of 'it's', 'do not' instead of 'don't', e.t.c
Sample of IELTS Formal Letter
Dear Sir/ Madam
LETTER OF ENQUIRY FOR THE CANADIAN AFRICAN STUDENT SCHOLARSHIP SCHEME
I am writing in regards to the schoolarship scheme for students in Africa advertised on the Canadian TV news.
I wish to know the requirements – what it takes to apply, the exams I am to prepare for, for the details given did not carry much information. This information will help me prepare well and know if I am qualified to apply.
I look forward to hearing from you.
Yours faithfully,
Chinonso Marymartin Okoabu.
Writing IELTS formal letter is not difficult. Simply following this article will make you well-grounded and you will find how to write IELTS formal letter a simple and interesting task.
Related Posts